Modern art and coronavirus
Whether it's a heartfelt tribute or a biting commentary, the stirring new works by these artists – Jilly Ballistic, Duyi Han and TV Boy –profoundly capture what the world is like in the wake of the coronavirus crisis. With that, we present to you their thoughts on the current global situation, their life as an artist and more in this exclusive interview.
Three artists reflect on how the world has changed as a result of coronavirus
If you've ever lived the life of a New York City straphanger, chances are you've already stumbled upon some of Jilly Ballistic's eerie historical images of World War II soldiers and civilians in gas masks.
The subway artist describes these black-and-white wheatpaste figures as "modern protest work" as she's of the opinion that words and images are the two best mediums to reflect what is currently happening in the society.
Tell me about the artwork that you've been doing.
It changes day to day as the situation with the pandemic changes. I'd comment on things like the absurdity of reopening the country while death toll continues to rise or I'd use a historical image that reflects our current situation; this is to show how little has changed for us.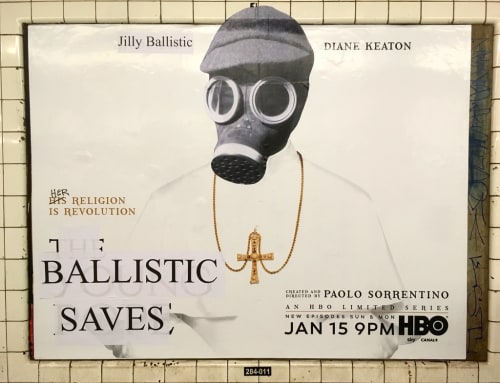 How are things going?
New York City has become a completely different world. Subways are mostly empty and the streets are bare. It certainly doesn't have the energy it is known for having. It's somber, with the occasional glimmer of hope.
What do you think about the handling of this pandemic and its effect on the people?
The State of New York is doing its best to handle the coronavirus without any Federal help. Individual states are left to fend for themselves, which is leading to more suffering, confusion and instability. Art will reflect this and art around the globe will record what is happening for the history books.
The recent outbreak is devastating on a worldwide scale but it hits especially close to home for Duyi Han. Making headlines for his mural at a historic church in China's Hubei province, Duyi's journey to the region where the virus originated is deeply personal as it's also where his grandparents reside.
How are your grandparents holding up?
They are doing fine. I was worried about them when the outbreak was severe earlier in the year. People in the city were very nervous during the crisis. But basic food and supplies were available at their door, at least in the neighborhood my grandparents live in. So they were able to stay home without much difficulty.
How has the lockdown affected you personally and the people around you?
It's just that I have to adjust my short-term and long-term life plans accordingly. There are lots of phone and video calls. Lots of recipe sharing. But on the bright side, I have plenty of ideas for future artworks. The situation is getting better in China, so I hope the world will recover soon too.
Italian artist TV Boy believes that art should mirror the times that we're living in. So when he heard about a spike in coronavirus cases in Barcelona, a city where he's based in since 2004, he rolled up his sleeves and got to work.
Through his artwork, TV Boy captured the severity of the circumstances with a touch of triviality that casts the world in a more positive light. Love in theTime of Coronavirus, for example, is a bittersweet note on how love can survive the pandemic.
At what point did the gravity of the situation hit you?
It started with the cancellation of the Mobile World Congress. The virus was supposedly still contained in China, but the decision to call off the fair prompted me to come up with Mobile World Virus featuring the Mona Lisa. It made me think about how technology could be both of help and a kind of virus in itself too.
Which of your artworks are you most proud of?
The first one is always the best. So for that, I think Mobile World Virus with the Mona Lisa with a mask and smartphone would bea solid pick. But I also like Love in the Time of Coronavirus that'sinspired by a Francesco Hayez piece of work because it is bothpoetic and romantic.
source: https://www.luxuo.com/culture/art/three-artists-reflect-on-how-the-world-has-changed-as-a-result-of-covid-19.html